4k sold on day one
I Just have to say, fair play to the masses who queued outside of the Valley for a good couple of hours this morning, and fair play once again to the masses who made 08712261905 the hottest number in London all day.
I've been at work all day, but the bloke getting the tickets for me via the phone line had to wait a good hour before he could even get in the queue, and it was another hour before he reached the front of it. At 10p a minute, with all those people holding for over an hour, I wonder just how much money the club made today! It's claimed that the hotline number took over 10,000 calls within the first 2 hours of the tickets going on sale. It's great to know that so many of us are going to be there up at The Riverside, it's going to be a real night to remember.
The word from the official site is that we have already sold over 4,000 tickets for the trip, and that is fantastic going.
The total number of tickets availabe is 4,800, and there can be little doubt now that we are going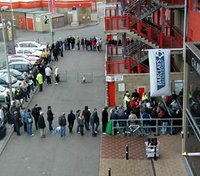 to sell our allocation out. Both trains are fully booked, the club have chartered two planes, and both of those have been sold out as well. There is a possibility that a third plane is also going to be made available aswell, but its likely that there is already a long waiting list for spaces on that. Free coach travel is still available from over 50 pick up points throughout the South East. Although more coaches are a lot easier to organise than more planes or trains; if you are planning on getting in on whats left of the freebies, you'll need to be by the phone first thing in the morning, and prepared to hold if necessary. I myself managed to get on the second train leaving from Kings Cross, and I count myself lucky to get that.
The club have been proved right in their decision to offer the free travel, and the fans have proved today just how up for it we are. Whether we win or lose up there the atmosphere promises to be superb, and I just can't wait.