An Empty Feeling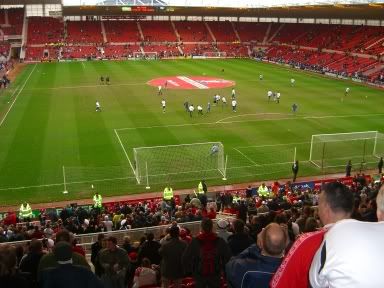 Although I recorded the match on Sky Plus, I still haven't been able to bring myself to watch it all again. I want to see the goals, I want to see how good Darren Bent's early chances really were, and I want to know if the wonderful atmosphere we created actually made it into the ears of those watching at home, but I just can't bring myself to press play. There is an empty feeling in my stomach this morning, I had really got myself believing that we could go up there and do a job on Boro but in truth, as soon as they got their second goal, I don't think we ever looked like we were going to get back into it.
The Journey up was great. We had a good old sing song on the platform at Kings Cross, and the songs continued to sporadically ring out all the way up to Middlesbrough. We got into the ground rather later than most because we split from the majority of Charlton fans when we left the station and opted to find a quieter pub in order to calm our nerves. Once we got into the ground the atmosphere was simply awesome. I don't know where everyone got all of that ticker tape from, but I was right on the far left of the stand and when I looked across the hordes of Addicks throwing that stuff into the air it just looked brilliant. Fair play to the Directors and Chairman for coming over to the fans before the kick off as well.
I took my digital camera to the game and I managed to get some decent video of the day. A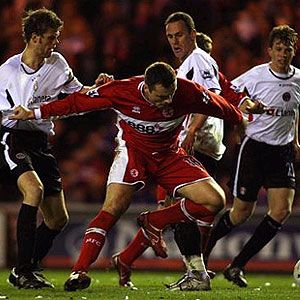 couple of brief clips of the crowd singing while waiting to get on the train at Kings Cross, and also the 5 minutes leading up to kick off when the players came out. I'm not sure about the best way to get them all on the internet, but I'll have a play with them later on today and hopefully get the link stuck up on here so you can all have a look.
I was a little disappointed when the team was read out and it included Shaun Bartlett but lacked Jerome Thomas. There was an occasion in the first half when Bartlett had the ball down the inside right channel, he burst his way into the box and just when any natural striker would have pulled the trigger, he decided to square the ball to Gareth Southgate. There weren't even any of our players up alongside him, and It was that kind of evening for us really. I was sitting next to a kid who must have been about 7 years old, and even he was telling Spector to "F***ing look before you boot it upfield". The delivery of the ball forwards to the more attacking players was awful al evening, Powell (although he didn't play too badly) was also guilty of just thumping it out of defence when a short ball into one of the midfielders would have been a better option to take.
To be honest, although Murphy left in acrimonious circumstances, he was without a doubt the most creative midfielder we had at the club and his departure has left a bit of a void in the middle. We don't have a playmaker in there anymore. Nobody who can run along the midfield line and then spot the run of a striker and slip it through a gap for him to run onto, and that is something that we will surely need to sort out when the transfer window opens up again. Rommedahl can play creatively when he wants to, but he had a relative novice up against him last night in the shape of Taylor and he still never managed to get past him. In fact, I think the only time I saw the flying winger beat a man last night was when he was running towards our own goal, before playing it back to Thomas Myhre.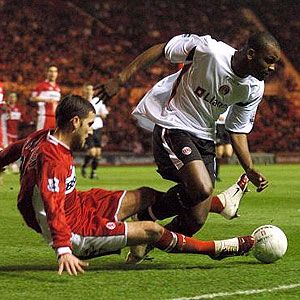 In order to win big matches your players have to be able to rise to the occasion, and in the cold light of day, we simply didn't do that. Boro totally deserved their victory on the night, and I just hope now that they can go on and beat The Hammers at Villa Park aswell. The future certainly looks bright for that club. They had a number of youth players on the field last night, and if you combine that with the fact that their chairman isn't afraid to spread a few quid about I think Boro could be a real force in seasons to come. I have been to The Riverside on four seperate occasions now and I have never seen their fans so up for a game. The place was buzzing when they got their second and third goals, and although they never managed to shut our fans up, I don't think our players truly believed that they had it within themselves to claw us back into the match when it went to 3-1. All of the 50/50 decisions were given Boro's way by Dowd and I'm starting to wonder if he has something against Charlton. Our record under him this season? Played 5, lost 5.
Man of the match was probably Mark Viduka. For such a big guy he certainly can turn on a sixpence, and our players were just afraid to tackle him for the fourth goal. The defence never really got to grips with him all night.
We were all hoping that the journey home was going to be a party on the trains, but in truth, most people just covered their heads and slept. As I posted last night, I got a phone call from someone telling me that one of the carriages got badly damaged, but seeing as how no one else has reported it this morning it looks like that may have been wide of the mark. I did speak to one fan who said that a few seats got ripped out near to where he was, but nothing that could constitute the smashing up of a carriage, and he states that he certainly didn't see anyone get arrested.
The train managed to get back to Kings Cross 45 minutes ahead of schedule, but the coaches were nowhere to be seen, so we ended up having to hang about on the streets of London until 3am. After a brief and somewhat disheartened rendition of Valley Floyd Road we were all left quietly to our own thoughts, contemplating how disappointing the evening had been, and where the club is to go next. The season is over in truth, all that is left to play for now is that top half position in The Premiership. In years gone by that would have been more than enough to keep the fire burning in the bellies of our players, but after having the promise of something greater on the horizon for so long, they will have it all to do if we are to avoid our customary end of season slump.
Final word has to be about the fans once again (and also a final thank you to the board for all of the free travel). I was honoured to be a part of the crowd at The Riverside last night, and regardless of the score the support was unwavering throughout the whole 90 minutes. It was the best atmosphere I have heard at a Charlton game in a number of seasons and to be fair, we deserved a better response from the players than we eventually got.